July 31, 2018
By Ben Everill, PGATOUR.COM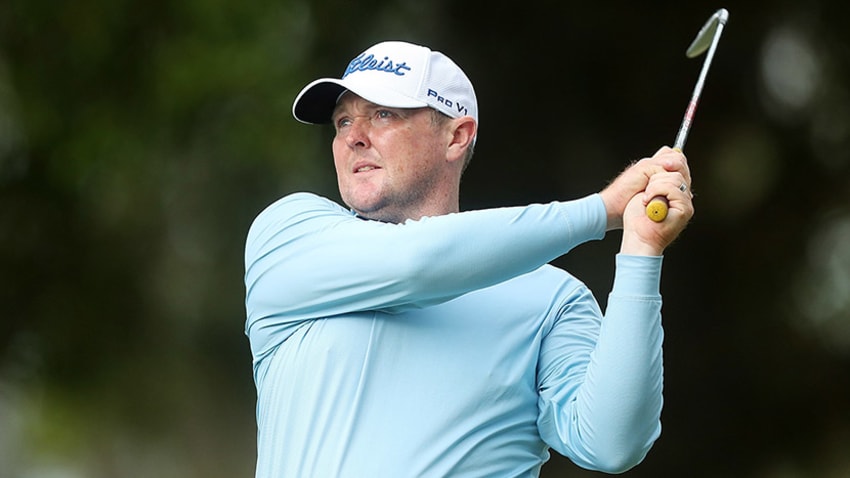 Jarrod Lyle put up the fight of three lifetimes against cancer but the extremely popular Australian PGA TOUR player has made the heartbreaking decision to cease active treatment and begin palliative care.
Lyle, a two-time winner on the Web.com Tour, has been a champion to countless people after overcoming acute myeloid leukemia first as a teenager and then again at the height of his career on the TOUR.
But David can't always beat Goliath.
It returned for a third time last year and although Lyle underwent a haploidentical transplant with the help of his brother in December his body has been unable to hold up.
In recent weeks Lyle had trouble with his eyesight and speech and the decision to end treatment came overnight.
While his body is leukemia free, the myriad of treatments and medications have taken their toll.
He will now spend his time with wife Briony and his young daughters Lusi and Gemma.
"My heart breaks as I type this message. Earlier today Jarrod made the decision to stop active treatment and begin palliative care. He has given everything that he's got to give, and his poor body cannot take anymore. We'll be taking him closer to home in the next couple of days so he can finally leave the hospital," Briony wrote in a statement.
"Jarrod knows he is loved, and the thousands of prayers and well wishes that have been sent his way have kept him going through some incredibly tough times. But he has reached his limit, and the docs have finally agreed that they can no longer strive for a positive outcome.
"My focus as of today is on our girls and doing whatever I can to get them through the challenges ahead. Jarrod will be closer to them very soon and will spend as much time as he can with them.
"When it's appropriate, I will post details of a memorial service. In the meantime we ask that you respect our privacy at this difficult time."
The news hit the PGA TOUR community hard.
"We've learned of Jarrod's plan to stop treatment and begin palliative care. Our entire TOUR family is grieving this news, but we certainly respect and support his decision to spend the coming days with his beautiful family – it's a decision true to everything he has stood for throughout his life and career: grace, dignity and an unending love of family," Commissioner Jay Monahan said. "We are respecting Jarrod's family's request for privacy, but they know we are here for whatever they need during this difficult time and beyond."
"I didn't want to believe it, it is just devastating," longtime friend Robert Allenby said. "Jarrod always has a smile on his face. His determination has inspired so many people around the world.
"That's why so many people have sent him so many prayers and well wishes. He is a golfing icon because of the character he has shown to the world. We send all our love to him and his beautiful wife and daughters in this tough time."
Allenby met Lyle when he was just a teenager going through his first bout of the disease through a cancer charity he works with in Australia.
The fact Lyle not only beat the disease but forged his way onto the PGA TOUR to play against him still floors him to this day.
"I knew he was good, but to be as great as he was, with the cards he was dealt. It just shows what a great fighter he is," Allenby added.
"And to this day – you'll never meet a bigger fighter. I'm not sure anyone could have fought as hard as he has. I know I wouldn't have had that willpower."
Adam Scott was emotional on hearing the news.
The former Masters champion was hoping for a miracle and said Lyle had always left him smiling in their hundreds of encounters.
"I can't imagine being in that position; it's unthinkable," Scott said. "He is one of the best blokes there is. Given all the difficulties he's had since his late teens, he has lived the best life he could with the tough cards he has been dealt.
"He has done better than anyone would have. He was out on TOUR for so long, playing such good golf while battling illness. He has been through it all. His positivity and general demeanor have been so good and so infectious on others; it's a good way to think of how I should live my life."
Jason Day, who has young children of similar ages to Lyle and who lost his father to cancer at a young age couldn't help but sympathize.
Day also went through a cancer scare with his mother in the last few years.
"It's hard news to take and it is so unfortunate," Day said. "It puts things in perspective. We are out here trying to compete but at the end of the day there is life and family we need to be there for.
"We all love Jarrod. He's such a good bloke. It's not fair he's going through this. It is going to be tough going forward for his family, sadly no amount of wishing and wanting can change some things. But I am sure everyone in the golf community will continue to support them the best we can."
https://pinevalleyohio.com/wp-content/uploads/2018/06/PVLogoOutlineWhite-300x117.png
0
0
Teesnap Developer
https://pinevalleyohio.com/wp-content/uploads/2018/06/PVLogoOutlineWhite-300x117.png
Teesnap Developer
2018-08-01 09:13:07
2018-08-01 09:13:07
Lyle decides to stop cancer treatment